Now available in the bathroom
hansgrohe sBox: all nice and tidy around the bath tub
For many, the bath tub is a relaxing oasis. A place to retreat to and enjoy a revitalising break. The more aesthetically pleasing and comfortable the setting, the better the recuperation. The hansgrohe sBox improves the look and feel of the bathroom to alleviate stress. Shower hoses dangling around is a thing of the past. Enjoy the beautiful view and the added freedom to move.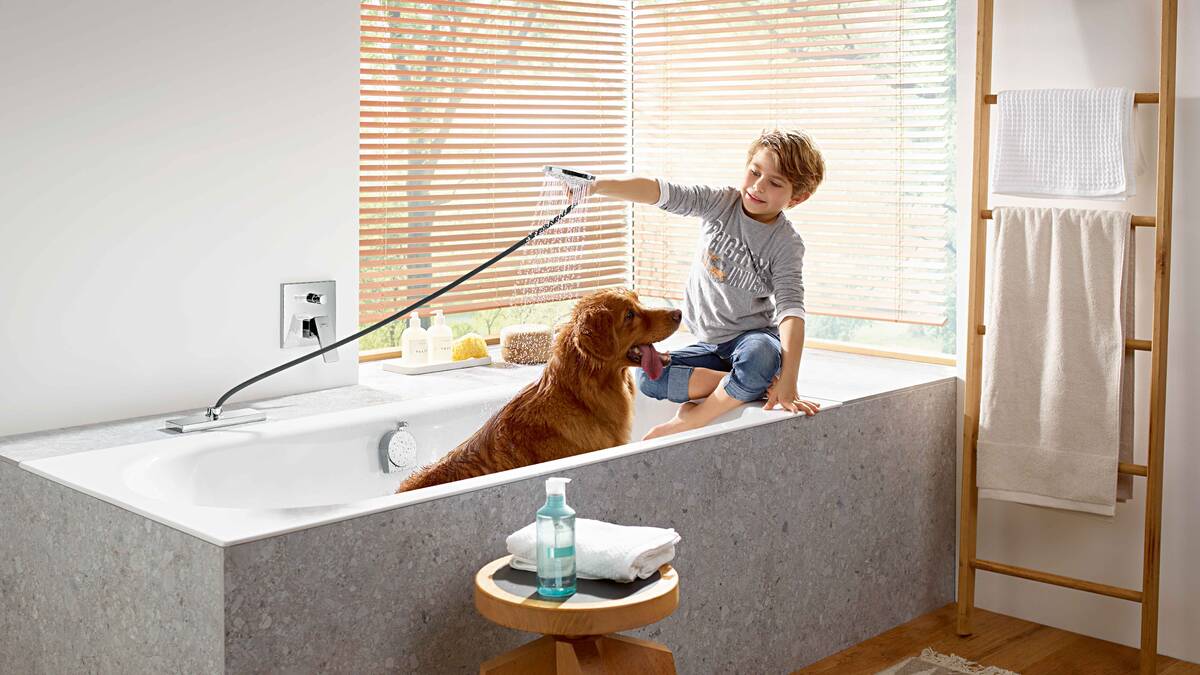 hansgrohe sBox: Brings so much joy. Needs so little space.
The shower hose that turns invisible and disappears into the bath tub rim when you don't need it. Attractive and convenient, it is coiled up and awaits its next use. It can be quickly and easily pulled out for the next bath or shower.
Up to a handy 1.45 metres,
if you want. It is extremely easy to handle, requiring little traction and holding force.
Guiding the hose along the bath tub is controlled, protected and safe
with the hansgrohe sBox as the shower hose does not get twisted.
Attractive look for more individual character to the bath tub
The sBox's metal wall flange is all you can see from the outside. Choose between
two attractive designs
, rectangular or oval, depending on which wall flange matches your bathroom taps. And it's so easy to clean as the smooth surfaces are low maintenance. Place the hand shower of your choice anywhere along the bath tub rim with the sBox. Please select the shower separately. Pick the right one for you that's to your taste. The sBox is compatible with all conventional
shower
and
bath tub models
, as long as the bath tub rim is wider than 71 mm.
The neat solution for new builds or bathroom renovations
The sBox is a
premium solution
for bath tub installations in new builds and bathroom renovations. The smart hansgrohe pulley system was previously only used in the kitchen, where it
tidied up the space under the kitchen sink
and made it easy for the hose on the pull-out tap to glide in and out. The
closed all-in-one system
replaces the current Secuflex bath tub system in concealed bathroom installations.
The sBox bath tub: underground information for those who really want to be in the know
The hose coiling system for the bath tub can be quickly and conveniently installed by the bathroom retailer. The specialist will love the new optimisations as the
two-step installation with the basic and pre-fab set
makes work easier for them: The sBox can be completely integrated into the bath tub rim or edge of the tiles. Hidden away there, it requires very little space. The extremely low maintenance requirements are another plus for the closed system. 
hansgrohe specialists
Find a hansgrohe retail store closest to you
hansgrohe Loading showroom data
An error occurred. Please reload the page.
Your search covers: South Africa, Madagaskar, Nigeria, Kenya, Botswana, Seychelles, Mauritius, Namibia, Tanzania, Zimbabwe, Ghana and Zambia