For those of a sunny disposition
Natural bathroom design with unusual colours and bathroom setting
Unusual bathroom design is achieved through the creative interplay between colours and materials. A natural décor combines classic shapes with modern elements. In a bathroom with a feel-good atmosphere, innovative technology offers comfortable and resource-friendly water indulgence. Truly turning your bathroom into a space of relaxation with the natural feel.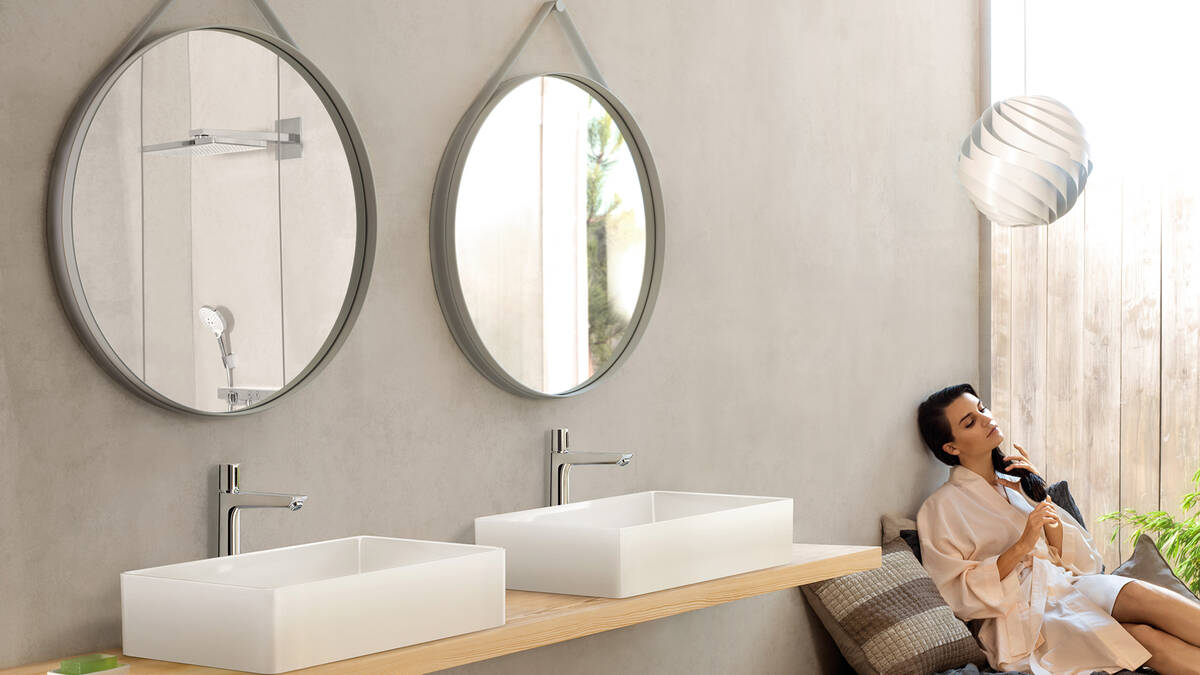 +1
Everything on the watch list
Product noted
Product saved for 30 daysAdd to notepad
The product could not be saved.
Please try again.
Unusual bathroom ideas in a medium sized bathroom
Extravagant bathroom with little décor and spa-like relaxation
Would you like your bathroom to feature natural furnishings and colours? The spatial impact of a modern-designed or high-quality-renovated bathroom with a small floor plan is enhanced through the use of basic pastel shades. Walls in the delicate light grey enhance the light effect offered by a large window to create a relaxing atmosphere. The use of a light rectangular wooden top complimented by the rectangular basins further lights up the room. Adding a small, comfortable, yet unusual area to relax in while waiting for your bath to fill up or hair to dry is the perfect atmosphere created by the natural light and authentic design. Minimal decor, but high-quality look and feel. 
Innovative technologies for practical water indulgence in an unusual bathroom
The earthy tones mark out the indulgence areas in the bathroom, and accentuate the tranquil character of this customised place of retreat. The modern mixers from the Talis Select range reinforce the individual character of the unusual bathroom design with their clear, shiny chrome surfaces. Inside the mixer bodies, innovative technologies are responsible for enabling you to enjoy water in comfort and to use resources responsibly.
hansgrohe specialists
Find a hansgrohe retail store closest to you
hansgrohe Loading showroom data
An error occurred. Please reload the page.
Your search covers: South Africa, Madagaskar, Nigeria, Kenya, Botswana, Seychelles, Mauritius, Namibia, Tanzania, Zimbabwe, Ghana and Zambia